Practice
Burdens, Passions, Gifts
Take some time to explore your own gifts and passions as they relate to vocational calling and the needs of the world.
This can feel like a lot, but remember, you don't have to know or solve everything here. This is just a starting point.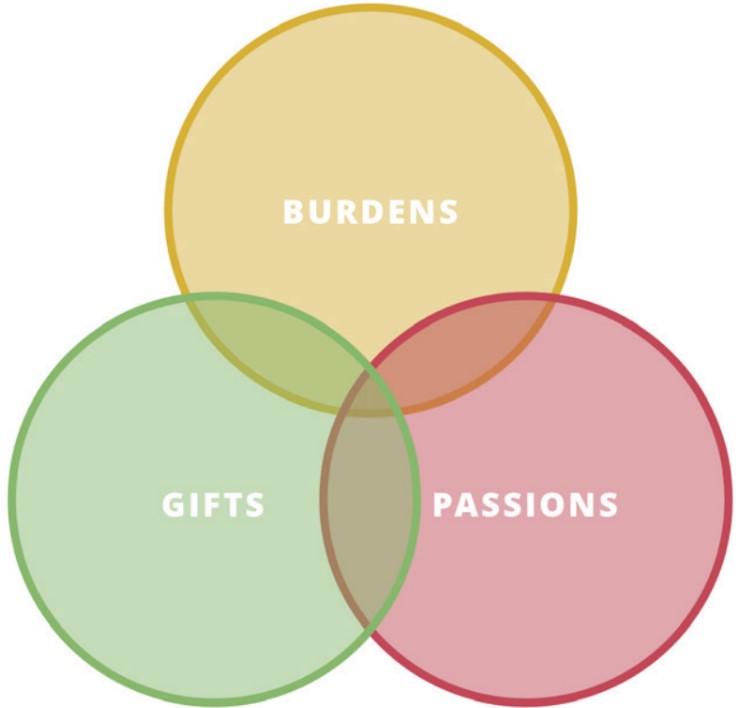 Burdens
What grieves you? What evokes anger? What is there in you a "holy agitation?"
Gifts
What is something you naturally do with ease? In what area do others ask you for help? What did you love doing as a child?
Passions
What have you ever felt – "This is why I'm here!", What would you do for free? What do you naturally find yourself always doing/drawn towards/reading about?
Do you see a natural overlap or sweet spot in the convergence of these 3 circles?
How does your current life situation align with what you've discovered? How have your expectations around success—imposed on you by self, family, culture, etc.—impacted your current career path?
How might God meld together your gifts and passions and needs of the city/world?
Now, with your passions and gifts as context, ask the Spirit to show you his heart for your industry and the city. Surrender afresh to Him and ask Him to lead you in knowing how your vocational calling fits into His redemptive purposes.
MCORE Assessment
The MCORE is designed to help you understand your core motivations and see what really drives you. It can be a powerful tool in understanding how God has uniquely wired you to participate in his Kingdom.
Contact your group's facilitator for a link to take the MCORE assessment online.
Once you've completed the MCORE, reflect on your top 3 motivations and on how they manifest in your life and your vocation.