Practice
This month, we will engage in two practical exercises to help you think through people God has placed in your life and how to connect them to other followers of Jesus.
Relational Networks Exercise
Think through 3-4 natural networks in your life (work, neighborhood, apartment, hobbies and interests, etc.). On a piece of paper, place your name in the middle a draw lines to these 3-4 networks. Around each relational network, write down the names of people you interact with in that particular network who seem disconnected from Jesus and His people.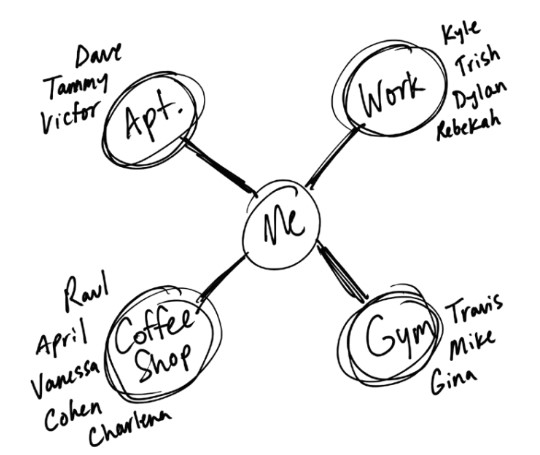 Circle the names of people with whom you have mutual friends who are followers of Jesus. Put an "X" beside 3-5 people with whom God has given you unique favor–someone who trusts you and enjoys you for who you are.
Ask Jesus to give you his heart of compassion for your friends. Please take time to pray that your friends would have a profound encounter with Jesus.
Intentionally Create a Third Space
What are some practical ideas you have for Third Spaces (flowing out of who you uniquely are, where you already are)? You can host something completely new and unique, or simply be intentional with something already in the rhythm of your life.
What barriers might keep you from creating Third Spaces? Who can you ask to do this with you?
What are your next steps in curating a Third Space? What do you want to trust God to do in these spaces?