REFLECT
Head, Heart, Hands
Jesus develops us as disciples who are "whole and unleashed." In order to have discipleship that is holistic, it is important to consider helping someone develop in knowledge (head), character/capacity to give and receive love (heart), and skill (hand). In addition, Jesus celebrates the unique contribution of each person, helping men and women be unleashed out of who they uniquely are is critical in discipleship.
Paul gives us a framework in Ephesians 4:11-16:
Skills (Hand): "Equipping of the sants" (v. 12)
Knowledge/Doctrine (Head): "Unity of the faith, knowledge of the Son of God" (v. 13)
Character (Heart): "Mature man, the fullness of Christ" (v. 13)
Unique Contribution: "The proper working of each individual part" (v. 16)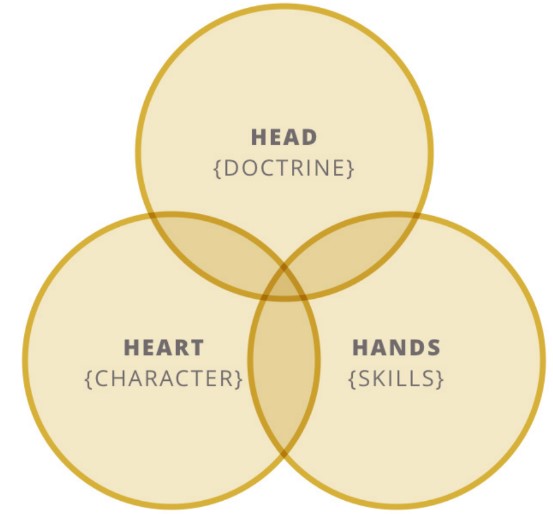 Consider the implications of a disciple that has…
Knowledge and character without skill? A disciple with no impact.
Skill and knowledge without character? A disciple with no compassion.
Skill and character without knowledge? A disciple without foundational truth.
What are your strengths and weaknesses in each of these three areas?
As you think through investing in others, how can you ensure helping them grow in these three areas? How might you invite the Body of Christ into that process, especially in areas of needed growth for you?